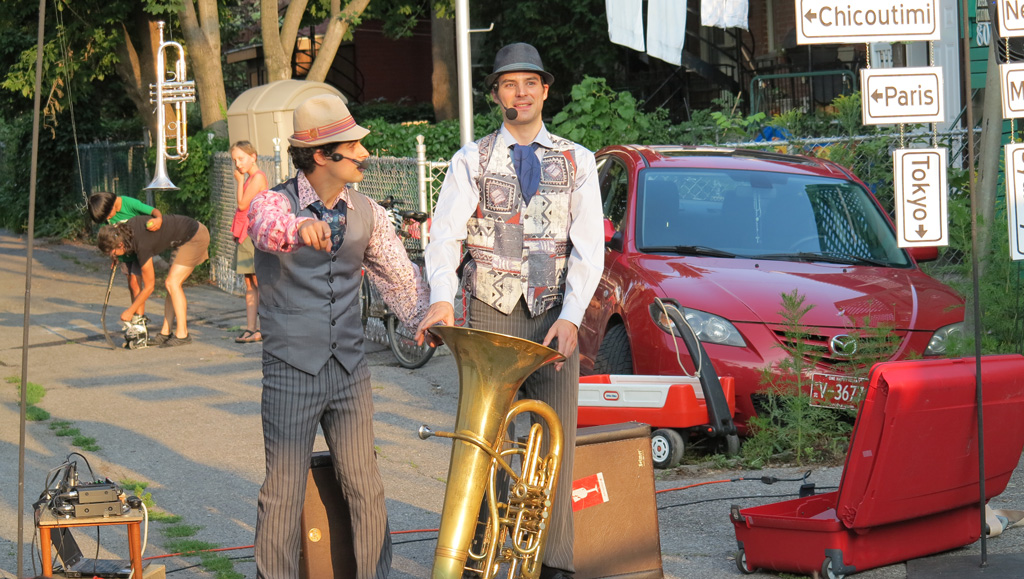 A promising preview!
Here we go, let's go! On Tuesday, July 29th, 2014, Frédéric Demers and Samuel Lalande-Markon have presented their brand new show TNT – Trumpet 'N' Tuba before a keen audience in the middle of an alley situated at the heart of the Villeray neighbourhood! Indeed, by word of mouth, one thing leading to another, grown-ups and little ones, music lovers and neophyte alike have gathered to listen, participate in and experience the new show co-created by Frédéric Demers. Meant for children aged 6 to 12, the show has delighted the whole family!
About the show
Two perennial musical accomplices miss the train that must bring them to their next show. Waiting at the train station, here they are, unpacking the stories and melodies gleaned in the course of their numerous travels. Hyperactive and incorrigible smooth talkers, they bring the public to life with an… EXPLOSIVE energy!
The show will be presented three times this summer thanks to the programme Hors les Murs of the Maison de la culture Villeray-Saint-Michel-Parc-Extension.
Thursday July 31, 2014, 10:30 AM, Ste-Lucie Park
Monday August 4, 2014, 10:30 AM, François-Perrault Park
Tuesday August 12, 2014, 10:30 AM, Howard Park